by admin on Sep.10, 2014, under Uncategorized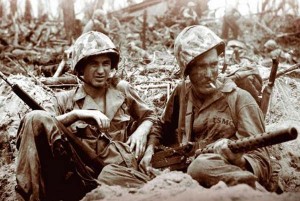 By all accounts, World War II was the defining event of the 20th Century. Spanning several years from the late 1930's through the mid-1940's, it altered the geopolitical landscape and defined an entire generation. It's legacy lives on through countless books, movies, stories and even video games. The recent mobile game from Supercell called Boom Beach is loosely based on World War II weapons and background.
I've always known the basics of World War II (Germany invaded Poland, the Allies rallied to stop them, it took a while for the US to enter the war, Japan bombed Pearl Harbor, the US dropped the atom bomb on Japan, etc.) but there really was so much more nuance and detail to everything that took place in that time period.
So when I stumbled across World War II: The Definitive Visual History
, I was intrigued. This book from DK Publishing, devotes 360 pages spread across nine chronological chapters to virtually all aspects of the war. It is richly illustrated, as most DK books are, and uses timelines and cross-referencing to link everything together. It's a great read and makes an ideal coffee table book for anyone interested in that period in history.